California is a popular location that has amazing weather and so much to offer. The nice weather in this state allows for amazing produce to be grown year-round. With all of the amazing, fresh produce that is available here, Los Angeles has quickly become home to the best farmers' market in the state. Wondering which of these markets are the best? Let's take a look.


La Cienega Farmers' Market
With this year marking its 20th anniversary, La Cienega Farmers' Market is a certified farmers market that has been in operation for over 8 years. The goal of this market is to offer a large variety of fresh produce to the community and easy access to a healthy lifestyle. Their products are produced by local small Californian farmers. These products include fresh farm produce, chicken, salad mixes, mushrooms, and even honey. Shoppers will also find specialty items including baked goods, condiments, and hot food vendors. They also participate in an outreach program where they donate farm-fresh produce to schools for those in need of food. This program aims to serve roughly 3,000 children a week and these efforts are supported by grants. The La Cienega Farmers' Market opens Thursdays from 2:00 to 7:00 pm.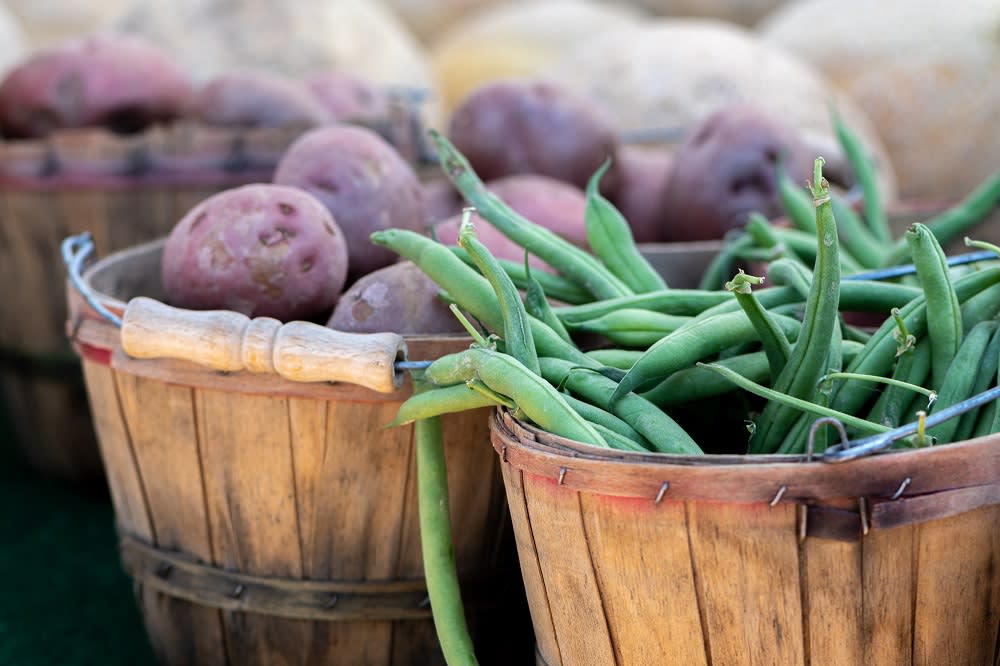 Credit: La Cienega Farmers' Market
The Original Farmers Market
Known as the home to LA's best grocers, The Original Farmers Market is full of shops, restaurants, and amazing produce. This family-owned farmers market has close to 100 businesses, meaning there is something here for everyone. The Original Farmers Market has a variety of food options covering a number of cultures including Brazilian, Mexican, Middle Eastern, Italian, American, French, and Greek just to name a few. You'll also find high-quality fish, meats, vegetables, fruits, bread, and anything else that may be waiting on your grocery list. If you're also looking for somewhere to combine grocery shopping with retail shopping, there are a number of jewelry, clothing, and book shops located in this market as well. For those looking to indulge in delicious wine and beer, there are two popular bars here as well. At E.B. Beer & Wine, experience incredible beers and worldwide wine while meeting up with some friends for a nice afternoon get-together. If you're looking for the best locally-crafted brews and wines, head over to Bar 326 which has 24 taps and dozens of wine selections for you to choose from. The Original Farmers Market is open daily and hours will vary.
Atwater Village Farmers' Market
Offering a wide selection of produce every Sunday morning, Atwater Village Farmers' Market continues to be a market that is growing in popularity and offers a diverse selection of vendors. This market hosts numerous high-quality local farms in the Southern California area which produces a number of organic herbs, heirloom tomatoes, and a wide variety of fresh produce. While shopping, enjoy some live entertainment given by local musicians. This family-friendly market is a great place to not only shop but also to unwind. Their goal as a market is to help aid in building sustainable food systems and promote both social and cultural activities that benefit the community of Los Angeles. The Atwater Village Farmers' Market also strives to support small and mid-sized farmers and businesses the best that they can. This market is open Sundays from 9:00 am to 2:00 pm.
West LA Farmers' Market
Since its opening in 2003, the West LA Farmers' Market has been serving the Los Angeles community with seasonal produce and gift shops. As you're searching through vendors, enjoy some live background music as you shop. From their list of certified farmers, you can find a variety of items and ingredients here including vegetables, local honey, delicious berries, wild-caught seafood, and more. This is not only a great place to buy produce for your home, but it is also a popular market for finding nice gifts for yourself or even your loved ones. Enjoy free parking when you visit as well. The West LA Farmers' Market is open year-round, on Sundays, from 9:00 am to 2:00 pm.
Echo Park Farmers' Market
The Echo Park Farmers' Market continues to thrive from the growing number of farmers and producers who attend the market on a weekly basis. There are around 15 local farmers who come and offer a wide variety of garden-fresh produce from jams, jellies, honey, and even freshly-grown flowers. Not only does this market offer a variety of amazing vendors, but they also host live music and regular events that the community can experience as well. There are events held regularly specifically for families which is convenient for those who want to bring their children alone. This market is open every Friday from 3:00 pm to 7:30 pm, and this is one of the only farmers' markets in the area that allows for late-night grocery shopping.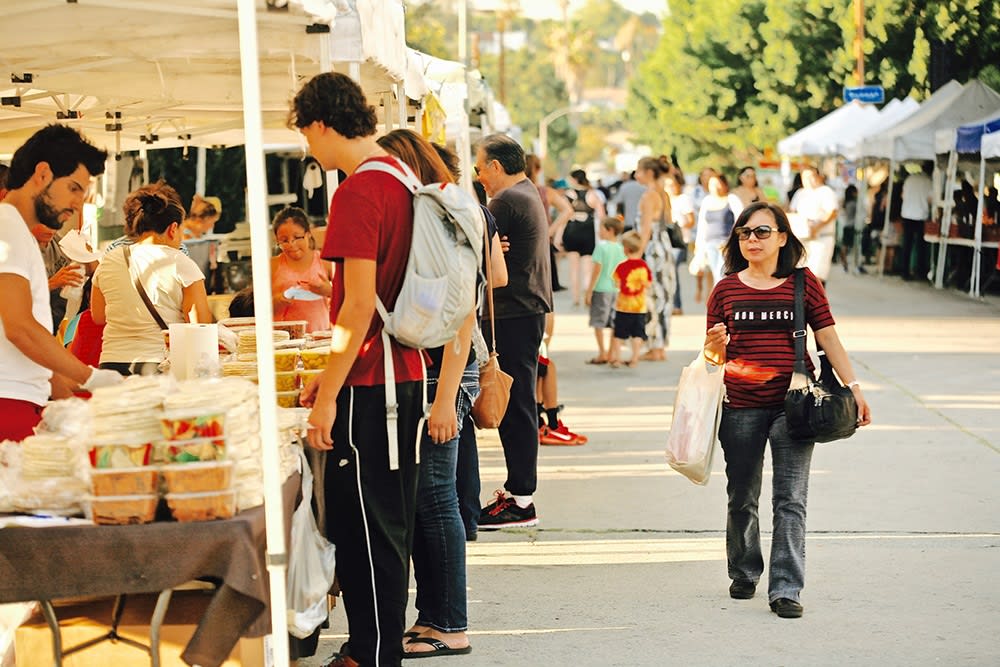 Credit: Echo Park Farmers' Market
Motor Avenue Farmers' Market
From all of the locally sourced fruits to the delectable baked goods, Motor Avenue Farmers' Market has everything you could be looking for. They feature fresh local fruits & vegetables as well as artisanal dips & sauces, as well as properly prepared foods that are healthy for the mind, body, and soul, like Tai Chai! That's the overall vibe when it comes to Motor Avenue Farmers Market; they strive to enhance the standard farm-to-table connection. Motor Avenue is committed to establishing a sustainable food system for the communities in the area through its operations. Motor Avenue also guarantees their customers that all of the produce sold is grown in California by the wonderful farmers there. Customers can also rest assured that their sellers use fewer pesticides, grow their crops on cultivated and refined soil, and cause less runoff and pollution than the average American farm. Their farmers produce four to seventeen times less petroleum to transport their goods to Motor Avenue. Alongside everything else mentioned, Motor Avenue Farmers' Market features a fitness camp for anyone looking to get in shape, as well as Outdoor Yoga for those who want to take it a bit more mellow. Make sure to visit this market on Sundays from 9:00 am to 2:00 pm.
Wellington Square Farmers Market
This independently-owned and non-profit farmers' market is all about supporting small farmers and creating a space for the urban community. The purpose behind Wellington Square Farmers Market is to promote healthy eating, maintain sustainable agriculture in California, and celebrate diversity. All of their products are sourced from small farms and are offered to customers locally, which directly helps to build the community and preserve California farmland. This market really aims to give opportunities for local farmers to grow and feed their families and it is intended as a space for these farms to sell their produce, baked goods, and any pre-packaged food to the community. In better-serving the community with healthy produce, growers will sell organic foods that are free of pesticides. The market is pretty small and easy to navigate along with their effortless parking. Enjoy some live music from 11:00 am to 1:00 pm.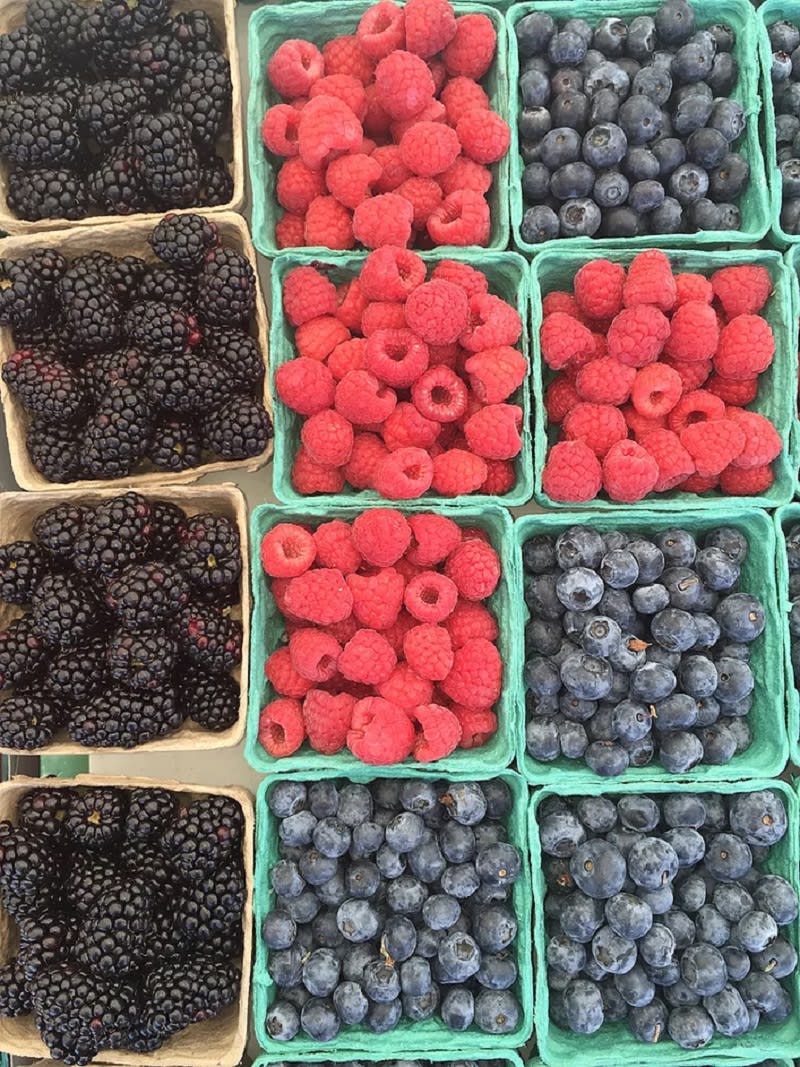 Credit: Wellington Square Farmers Market
Central Avenue Farmers' Market
Looking for a weekly outdoor farmers' market that caters to a small group of farmers that also hosts events for children and adults? Stop by Central Avenue Farmers' Market where you'll be introduced to innovative community programs and farm-fresh produce that you can't find anywhere else. Some of their programs and activities include arts and crafts workshops, seasonal activities, and even cooking demonstrations meant to promote healthy eating. The Central Avenue Farmers' Market is open every Thursday from 10:00 am to 3:00 pm in South Los Angeles. This market is open rain or shine.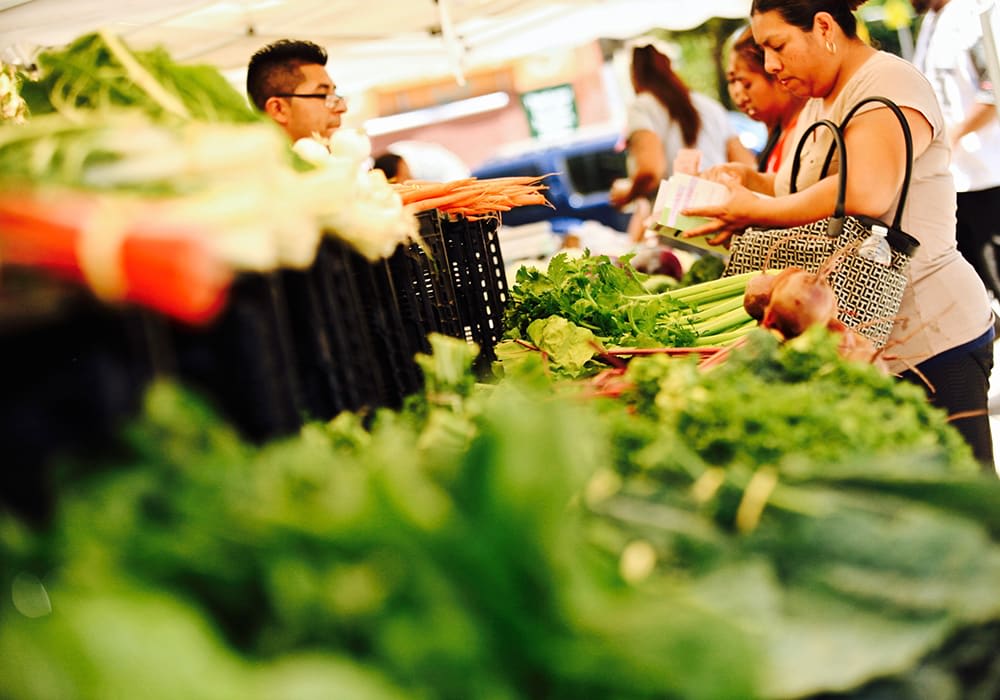 Credit: Central Avenue Farmers' Market
Hollywood Farmers' Market
Founded in 1991, the Hollywood Farmers' Market has seen tremendous growth and has been a market that is all about bringing local farmers and produce together that are in the region. This market hosts 160 farmers, producers, and food artisans that offer crops that are grown seasonally. These crops come in a large variety and come from different culinary perspectives. Many local shoppers use this market primarily when going on their weekly grocery trips. It is also known for being a place where the community gathers and participates in a number of fun activities including book signings, art shows, crafting, and listening to live music. Stop by the Hollywood Farmers' Market on Sundays from 8:00 am to 1:00 pm.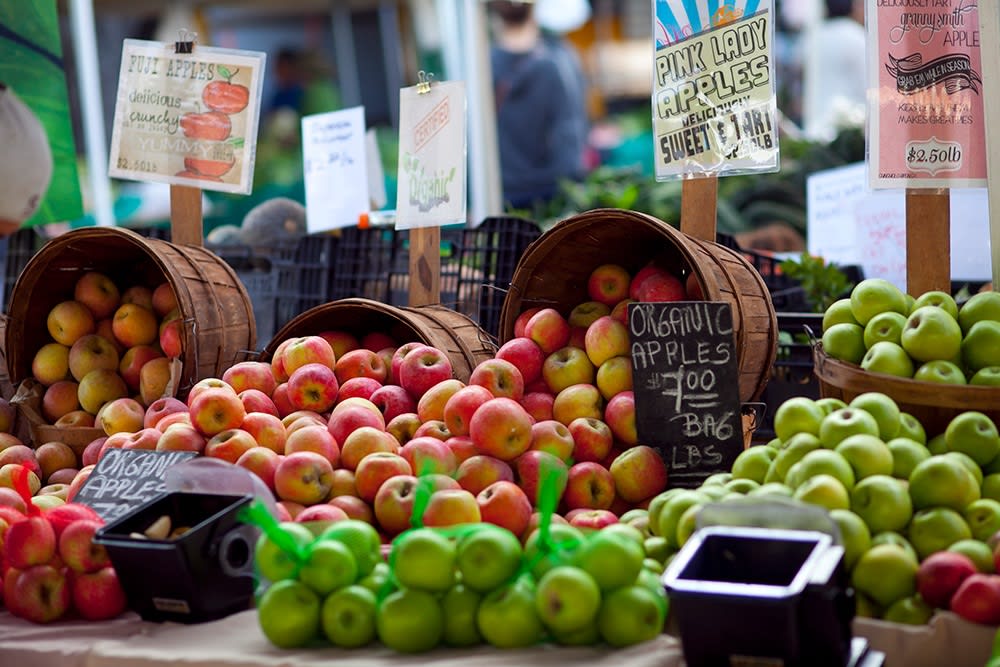 Credit: Hollywood Farmers' Market

All of these farmers' markets not only aim to better serve the Los Angeles community with amazing produce, but they are also all certified. Shoppers can expect to experience high-quality service and experience while shopping at these markets. If you would like to have access to the best farmers' markets in Los Angeles, contact realtor Jamison Malone today for more information on real estate in the Los Angeles area.